The Tire Professionals Greenway Nissan Florence AL (256) 760-7400 Express Tire Services, Tire Repairs, Wheel Repair, Buy 3 Tires Get 4th Tire for $1 Sale.
Correct Car Tire Inflation For The Hot Humid Temperatures In Florence Alabama?
What is the correct tire inflation for my car? Over and under inflation can cause uneven wear in tires.
If a tire is overinflated the center of the tread with wear out faster. If they are under inflated the outsides of the tire will wear out faster.
If the alignment is off it will either wear out the inner or outer edge faster.
You can find specs for your vehicle's tire pressure in your owner's manual or call Greenway Nissan of Florence at (256) 740-5100 we will be glad to help you.
Most passenger vehicles recommend 32 psi to 35 psi. Tire Repair Florence Alabama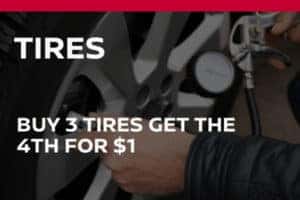 Nitrogen In Your Tires vs. Compressed Air In Your Tires?
How does using Nitrogen in my tires help compared to regular air? Regardless of whether you are using nitrogen or compressed air, all gases expand and contract at the same rates. All tires expand when the temperature rises and contract when the temperature drops. The biggest factor in tire pressure changing is due to temperature and moisture. There is more moisture in compressed air than in nitrogen. Nitrogen doesn't fluctuate as much with temperature because it has less moisture in it. That's why it stays more consistent with temperature changes. If you have any tire questions please call the tire service center at Greenway Nissan of Florence at (256) 740-5100.
Truck Tire Center of Florence Tire Coupons Florence Alabama – Greenway Nissan of Florence – 248 Cox Creek Pkwy, Florence, AL 35630 – (256) 740-5100 Tire Coupons Florence AL – Tire Repair Center Service Coupons Florence Alabama